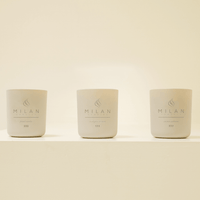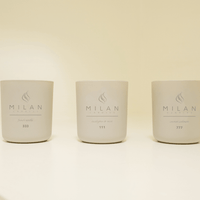 Description
This bundle includes:
111 - Eucalyptus & Mint
Take the weight off your shoulders, gain clarity, and relax.
333 - French Vanilla
It's impossible not to smile when you smell this sweet and velvety scent.
777 - Coconut Cashmere
Make ordinary moments feel beautiful and special again.
Angel Number
Angel number 111 signifies manifesting your thoughts into reality.

Angel number 333 represents that the time is perfect to step forward and accomplish everything you've ever wanted.

Angel number 777 signifies the connection between the spirit and the soul and represents a spiritual awakening, or inner wisdom.
Shipping Policy
Domestic orders can take between 1-3 business days depending on your location.
International orders can take up to 10 business days.
Please note, that shipping during holidays and busy times may take longer.
First-Time Buyer
This is my first-time buying from Milan Candles. I was intrigued knowing they are Black owned company but also their mission statement behind wanting to end trafficking and being able to help fund that through my purchase. Overall the candles have been amazing. They feel luxurious, I love the packaging and the scents. I look forward to buying more candles in the future.
My favorite candles by far
I fell inlove with these candles instantly when I found out the back story on these. I love that the company is helping fight child sex trafficking! I also love every detail of the packaging/product, down to its scent. It's a beautiful product, one that I will continue to support.